I took this picture while i was in a summer holiday in Fussun , Germany .
History :
The Neuschwanstein is one of the most popular of all the palaces and castles in Europe. "the castle of the fairy-tale king".
Neuschwanstein Castle, royal palace in the Bavarian Alps of Germany, the most famous of three royal palaces built for Louis II of Bavaria, sometimes referred to as Mad King Ludwig, who grew up nearby at Hohenschwangau Castle. Begun in 1869 and left unfinished at Louis's death in 1886, the castle is the embodiment of 19th century romanticism. In a fantastical imitation of a medieval castle, Neuschwanstein is set with towers and spires and is spectacularly sited on a high point over the Pöllat River gorge. The king worked with three different architects in succession: Eduard Riedel, Georg Dollmann, and Julius Hofmann, all Germans who based their designs largely on a scheme produced by German stage designer Christoph Jank.
King Louis was a patron of the German composer Richard Wagner, and the third-floor rooms reflect Louis's love of the legends used by Wagner in his operas: for Tannhäuser, a winter garden and stalactite grotto; for Lohengrin, the great chamber; and the unfinished Byzantine throne room, its vaulted ceiling supported by inlaid stone columns and decorated with stars. The Singers Hall on the fourth floor, with a coffered ceiling, is dedicated to the life of Parsifal, hero of another famous Wagner opera. The palace is now a popular tourist attraction.
It has 65 rooms and only 16 are finished. Louis II lived there for only 172 days. 6 weeks after his death, castle was turned, by Bavarian gvt. into tourists attraction.
Neuschwanstein Castle has - as the only candidate from Germany - the chance to belong to the "New 7 Wonders of the World". Together with the Statue of Liberty, the Kremlin, the Acropolis, the Colosseum and the Great Wall of China the world famous castle is among the 21 finalists of the vote ititiated by the New7Wonders Foundation.
for more info visit
[link]
and
[link]
and [link]
Rooms :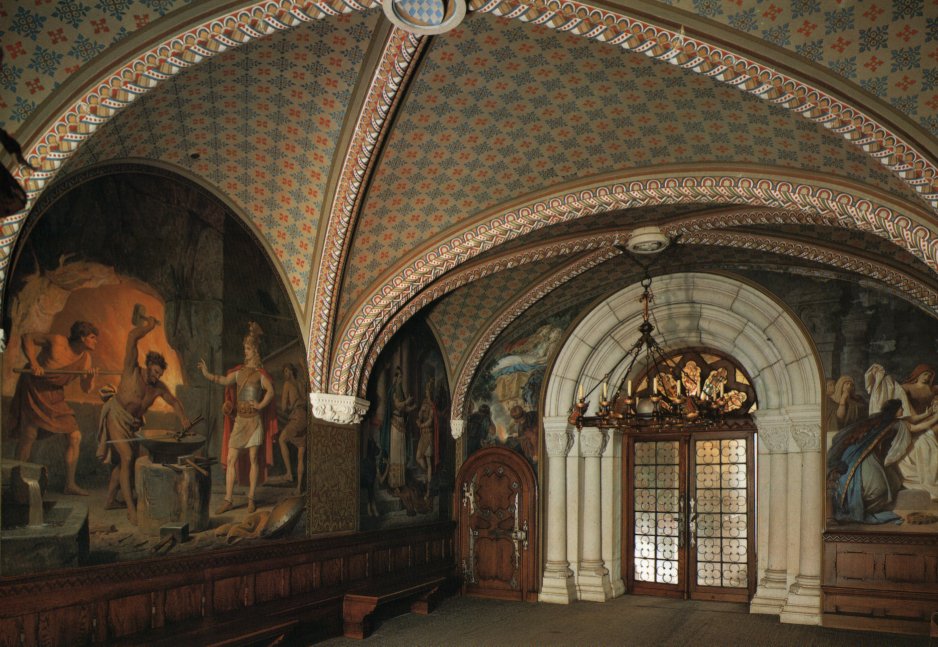 The Entrance Hall
The throne room
Drawing room ( living room )
For more information about the rooms you can visit
---


This photo is NOT stock
All Rights Reserved © All my work is under Passion 91 copyrights .Non of my works can be used with out
my written permission. Legal actions will be used .

All feedback, fav, comments are very appreciated.
Deviantart